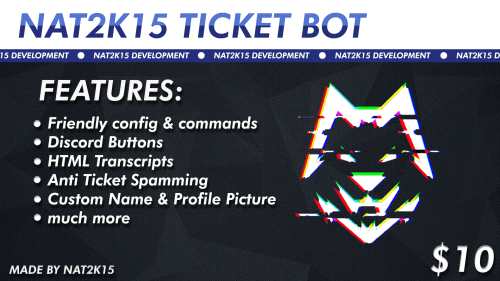 Ever wanted to have your own custom ticket bot in your discord server? Well, here it is. Below are listed all the features that come with this bot.
HTML Transcripts
Logs the conversation inside of the ticket within an HTML Transcript
Anti Ticket Spam
This bot will only allow a user to create one ticket within the server, preventing possible ticket spammers.
Simple Config
In the bot, you have a very simple config. Very user-friendly (support is given if needed)
Custom Name & Profile Picture
You can choose the bots photo simply by heading to your discord developer portal and choosing your own logo.
Discord Ticket Bot — $4.99
---
---
User Reviews

Product: Discord Ticket Bot 5/5
"This ticket bot out beats all of them." — 2XRondo

Product: Discord Ticket Bot 5/5
"Best Ticket Bot you can get for the price!" — mamba